Season Three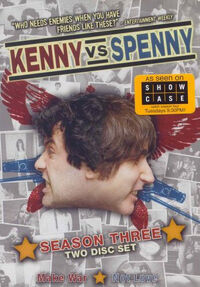 Air Date    16/10/2006

Season Three Episodes:
All episodes: 1 • 2 • 3 • 4 • 5

Season Three of Kenny vs Spenny, featured 13 episodes, of which Kenny won the most. The season aired between October 2006 and January 2007.
The DVD of Season Three was released on November 13, 2007, featuring all 13 episodes. The DVD contained several bonus features: Kenny's never-before-seen version of "Who Can Make a Better Porno?", two commentaries with Kenny & Spenny, crew commentary, deleted scenes.
The article is a Stub!
We need your help to make this page better, or we'll set Kenny's Kids on you!

Please expand the article as well as you can!
Ad blocker interference detected!
Wikia is a free-to-use site that makes money from advertising. We have a modified experience for viewers using ad blockers

Wikia is not accessible if you've made further modifications. Remove the custom ad blocker rule(s) and the page will load as expected.