Season One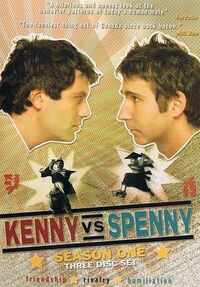 Air Date    26/8/2003

Season One Episodes:
All episodes: 1 • 2 • 3 • 4 • 5
Season 1 was the first season of Kenny vs Spenny, which featured 26 episodes, of which Kenny won the most. The season aired between August 2003 and March 2004.
Season 1 was released on November 2005, featuring 24 episodes (two episodes were transferred to the Season 2 DVD). It also featured some bonus features: Kenny & Spenny commentary over two episodes, biographies, clips from international versions and Pitch.
The article is a Stub!
We need your help to make this page better, or we'll set Kenny's Kids on you!

Please expand the article as well as you can!