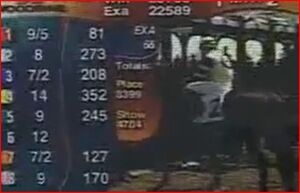 Petite Mermaid was the horse Spenny bet *$150* on at the Woodbine Race Track in the episode "Who can earn the most money in three days?". Petite Mermaid's win earned Spenny $1650, contributing to his win in the episode.
Spenny bet Petite Mermaid to win.
Petite Mermaid was the no. 2 horse with 10:1 odds, Petite ran in the second race.
Spenny bet $150 dollars but the betting card read $100.*
Ad blocker interference detected!
Wikia is a free-to-use site that makes money from advertising. We have a modified experience for viewers using ad blockers

Wikia is not accessible if you've made further modifications. Remove the custom ad blocker rule(s) and the page will load as expected.