Daisy the Cow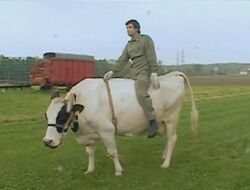 Won    1
Lost    0
Profession    Milk production

Daisy was the cow that helped Kenny win the Who can sit on a cow the longest competition. Kenny chose Daisy because the farmers said Daisy was the most calm cow on the farm and the least likely to knock Kenny off. Daisy makes milk at White Meadows Farm, along with numerous other cows. Daisy proved calm and didn't act aggressively either on Kenny's test run and on the actual competition.
The article is a Stub!
We need your help to make this page better, or we'll set Kenny's Kids on you!

Please expand the article as well as you can!
Ad blocker interference detected!
Wikia is a free-to-use site that makes money from advertising. We have a modified experience for viewers using ad blockers

Wikia is not accessible if you've made further modifications. Remove the custom ad blocker rule(s) and the page will load as expected.