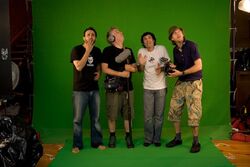 Over the course of the Kenny vs. Spenny series, a number of people have worked as part of the crew. The crew consists of audio recorders, cameramen, and unit managers.
Both Kenny Hotz and Spencer Rice have crews, though they have been known to interchange. For example, during "Who Can Imitate the Other Guy Better?", Kenny's crew followed Spencer and vice versa in order to judge the competition.
Crew Members
Edit
However, a number of other people have worked as cameramen and audio recorders over the course of the series. Listed above are the men who are most consistent crew members.
The article is a Stub!
We need your help to make this page better, or we'll set Kenny's Kids on you!

Please expand the article as well as you can!
Ad blocker interference detected!
Wikia is a free-to-use site that makes money from advertising. We have a modified experience for viewers using ad blockers

Wikia is not accessible if you've made further modifications. Remove the custom ad blocker rule(s) and the page will load as expected.